f you have a WordPress website, you're bound to get unwanted comments that may harm your content or audience. To prevent that from happening, you'll need to make sure that you have spam protection. In this article, we're going to introduce one of the best anti-spam plugins — Akismet Anti-Spam, and explain how to set it up.
What Exactly is Akismet Anti-Spam Plugin?
Once your WordPress site is live, getting an anti-spam plugin is a necessity. The tool will remove spam and stop it from showing up on your page. It filters all incoming messages and eliminates the ones that contain spammy words.
There are many plugins that can help you with the task, so which one should you go for? Out of all anti-spam tools, Akismet Anti-Spam is our top recommendation. Here's why:
Reliable — the plugin has blocked more than 483 million spam comments up to this day. With such a huge database, it's getting better at distinguishing which responses are spam.
Jetpack and Contact Form 7 integration — by combining these two platforms, Akismet can further improve your site's security and block spam from contact form submissions.
Affordable price — with $8 for a single website and $50 for unlimited sites per month, Akismet surely offers great value for money. There's even a free version that has decent spam protection as well.
Advanced Stats — it also provides data on your site's spam activities. It will show daily to annual spam charts, false positive, and missed spam.
Now that you understand how great Akismet is, it's time to learn how to add it to your website.
Akismet Anti-Spam usually comes with every new WordPress installation. If by any chance it's not there on the Plugins section, here's how to set it up in three easy steps.
Install and Activate Akismet Anti-Spam Plugin
Access your WordPress Dashboard and go to the Plugins menu. Select Add New and type 'Akismet Anti-Spam' on the search bar.
Get the API Key
In order to work, Akismet will need an API key that you can get from its main website.
On the Installed Plugins menu, click on Set up your Akismet account.

2. Click the Get Your API key button, press Activate Akismet, and you'll need to sign up with your WordPress.com account. Not to worry if you don't have one, you can create an account with just a few clicks. Once connected, hit Approve.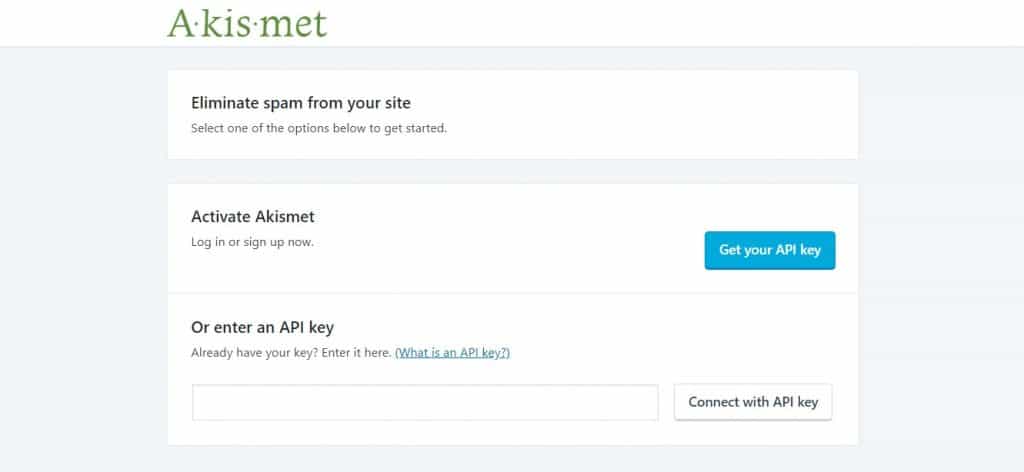 3. Decide which subscription plan you want to use. The premium packages include Plus ($8/month) and Enterprise ($50/month). There's also an option for a free subscription, simply click on the Get Personal button.
4. If you pick the free membership, the first thing you need to do is drag the price bar to $0. Verify that you don't display ads, sell products/services, and promote any business by checking all the boxes.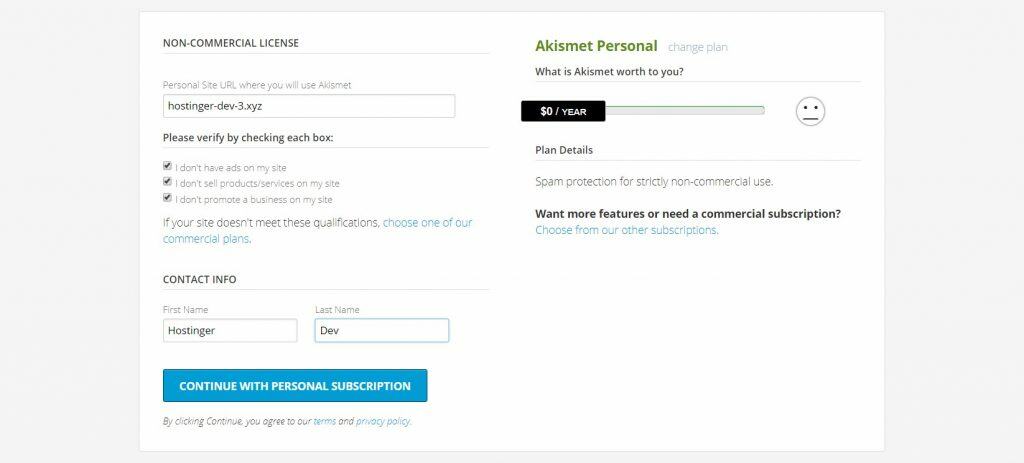 5. Enter your website address and name, then click Continue With Personal Subscription.
Add the API Key
After signing up for the subscription plan, you will see an API key at the top of your Akismet anti-spam Account page. Copy the code.

2. Go back to Installed Plugins on your WordPress dashboard and navigate to your Akismet Settings page.  Paste the API key on the given space and select Connect with API key.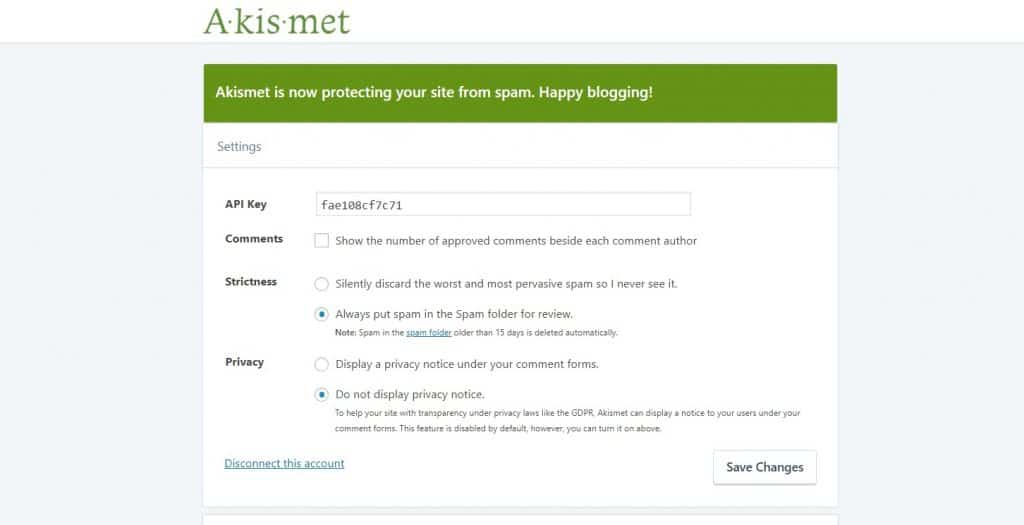 3. Choose your desired configuration to start using Akismet and don't forget to save all the changes.
Good job! You've successfully added Akismet Anti-Spam to your WordPress website.
Conclusion
Having an anti-spam plugin on your site is a must. It helps you take down annoying messages or comments that can decrease the credibility and appeal of your pages.
Fortunately, we have Akismet Anti-Spam, which is arguably the best spam protection tool for WordPress right now. It's affordable, powerful, and easy to use.
To recap, this is how you can set up the plugin:
Install Akismet Anti-Spam and activate it.
Sign up for one of the subscription plans and copy the API key.
Connect Akismet to WordPress using the API key.
If you have any questions, feel free to drop a comment below!